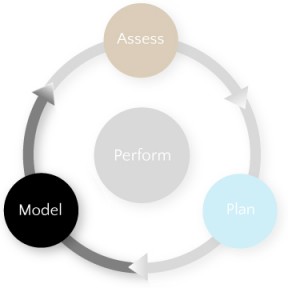 Three "models" define  what operations will look like under the plan and thus test the plan's viability:
Ideal Business Model
Ideal Organization Model
Ideal Financial Model
Ideal Business Model
The IBM defines the properties, sequence and timing of those tasks involved in the ideal execution of day-to-day operations.
Grantlun can get you started using its already establish "Core Process Network" which documents best practices in the BID-BUILD work flow.
Each process in it is charted step-by-step with a "TaskMap" and a set of supporting documents.
---
Ideal Organization Model
The IOM defines those business functions and attendant roles ideally needed to operate according to the IBM. It also defines the positions in the company's organization needed to fulfill each of the business functions' roles.
---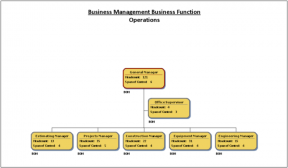 Ideal Financial Model
The IFM defines the cost of the positions established in the IOM; and, using revenue and cost assumptions, as well as cost and financial history; forecasts financial results; and, sets the business plan's standards of success.
---