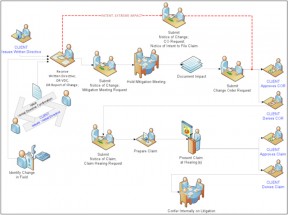 Construction contracts anticipate change because construction plans and specifications cannot perfectly represent the reality of field conditions. Differences between as-bid and as-built project constraints always arise.  The problem is, if you do not recognize changes,  notify the project's owner of them, and properly document them, their cost and consequential damage to your operations will come out of your pocket – instead of contributing greatly to your bottom line.
This one-day in-house training session at your facilities provides you the know-how and the tools needed to properly handle job contract management. It was created specifically for construction companies in the infrastructure construction industry, particularly those in the highway, bridge, pipeline, underground utility, oil field construction services and site work segments.
Know-how
This training session introduces you the principles and best practices of construction contract management.
General Principles

Business Framework
Project Constraints

Contract Administration

Contract Document Set
Key Rules Contract Administration
Cautionary Contract Provisions
Breach of Contract
Documentation

Change Handling

Changes Clause
Contract Change Provisions
Types of Changes
Contract Errors
Essential Change Management Process

Claim Handling

Owner-Contractor Conflict Basis
Key Risk Shifting Provisions
Legal Basis of Impact Recovery
Key Rules of Adjudication
Recoverable Damages
Claim Categories
Change of Condition Claims
Change of Scope Claims
Delay/Acceleration Claims
Essential Claims Handling Process
Tools
To enable you to proceed immediately with the implementation of the best practices introduced during training, you will receive copies of the Core Process Maps presented during training. They graphically illustrate:
What core tasks must be performed in each stage.
The responsible role for each task.
The order in which tasks should be performed.
The tools needed.
If you elect to purchase them separately, you can also receive any of our advanced contract management tool in our Document Library, including:
Checklist – Cautionary Contract Provisions
Checklist – Change Order Administration
Checklist – Claim Documentation
Checklist – Claim Package Outline
Checklist – Common Claim Mix
Checklist – Damages by Bid Price Structure