In the infrastructure industry – where competition is fierce, and profits margins are razor thin – you can't afford project delays, lost revenue or unrecovered extra costs. Now, more than ever, it's essential to plan and schedule work strategically - so that you complete projects on time, stay within budget and collect every dime you are rightfully owed.
This one-day in-house training session at your facilities provides you the know-how and the tools needed to do just that. It was created specifically for construction companies in the infrastructure construction industry, particularly those in the highway, bridge, pipeline, underground utility, oil field construction services and site work segments.
Know-how
This training session introduces you to the key principles and best practices involved in planning and scheduling a  project professionally:
Key Planning Principles

Plan purpose – Contractor's perspective
Work Breakdown Structure
Activity definition constraints
Activity definition evolution
Activity definition estimating
Planning Steps

Key Scheduling Principles

Schedule's purpose – Contractor's perspective
Schedule Types
Bar Chart Technique
Bar Charting Steps
CPM Technique
CPM Properties
CPM Steps

Key CPM Concepts

Schedule Framework
Hammock Activity
Timing Calculations
Critical Path
Float (Slack)
Baseline
Tracking
Crashing
As-Built

Planning & Scheduling Best Practices
Tools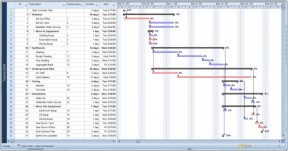 To enable you to proceed immediately with the implementation of the best practices introduced during training, you will receive copies of the Core Process Maps presented during training. They graphically illustrate:
What core tasks must be performed in each stage.
The responsible role for each task.
The order in which tasks should be performed.
The tools needed.
If you elect to purchase them separately, you can also receive any of our advanced planning and scheduling tools in our Document Library, including:
Project Control Properties Toolset
Back-to-Budget Production Analysis Worksheet
Job Schedule Properties Checklist